Are your Ready for Epic Adventures with Others?
While there is nothing like experiencing life with your own eyes, and there is nothing quite as powerful as inviting others along for the journey. This shift can happen when you are willing to step outside of your comfort zone and meet new people to experience awesome life experiences with. One way to connect with others is through adventurous dates! Start with connecting with others on Lets.Live, then use some of the affordable and adventurous dates ideas from our guest writers Mariah and Brooks to inspire your on your next outdoor date!
Message from Authors:
We are a couple of outdoor enthusiasts who teach during the day and spend our days off outdoors. All outdoor hobbies interest us, though hiking, rock climbing, kayaking, and new campsites are close to our hearts. Most of all we seek to share these passions with others, whether through writing, or even better, in person.
We also love dates, but there are very specific dates we enjoy the most: the affordable and adventurous ones to be exact! Here's a list of some of our favorite affordable (or free) and adventurous dates you simply must try for yourself.
P-I-C-N-I-C-S!
I could put this date idea in a chant, and cheer it loudly for all to hear! I love picnics! I love the variety of foods you can bring, I love the creativity involved, and I love that you can find incredible views without paying a grand price at a restaurant!
When Brooks and I first started dating, we got really good at picnicking. At the time we were poor college students who would much rather sit at a park 5 nights a week then spend all our money on tickets to the movies or a rooftop restaurant. Out of this convenient combination of limitations and desires, we planned many picnics, and we were good at it! We planned surprise picnics, "meal preps together before the date" picnics, themed picnics, and destination picnics. Each one was a great way to be together and enjoy each other's company, without spending too much on food, and certainly no entrance fee.
This date idea is first as it can also be combined with many of the other ideas to follow. I continue to reference picnics not just because I love them, but because bringing along food for an adventurous date is always a good idea.
Camp
Camping can happen almost anywhere. Your camping stop may not be completely legal, but you are usually able to set up a tent or sleep on the ground without many limitations. Of course, there are places you should not take a date, and I am in no way endorsing camping in places where it is prohibited. My point is solely to point out the creativity that camping allows. Camp in a campground, your backyard, a (sturdy) roof, a beach or a dock. Be creative with what you have, and make sure to bring a light, as well as food!
Paint
One of Brooks and my favorite date ideas is to grab a set of watercolors, paper, and take it with us on a hike. We walk until we find a scene that we both agree we would like to paint, summon our inner Picasso, and start the art! Usually the painting begins with us seriously trying to use artistic abilities, and then it quickly melts into a blob of laughter and abstract shapes. The best part however, is the naming of the final products and the explanation of the meaning behind our masterpieces.
Check Out Something New
You do not need to travel far to see something new. Check out google maps and have a few towns prepared that you have never visited, and make sure your date has not either. Then, plan a whole afternoon or evening there, being tourists. Even better is to drive or take public transportation in a new direction and randomly stop where both of you have never been. If you do not want to spend the money on food in this new town, be sure to pack a picnic (but you already knew that).
Find Some "Free" Entries
There are many concerts, events, and shows that are free to enter. Some events we've attended in the past were dance lessons, yoga, movies in the park, puppy petting, and runs. Search the events happening near you or look for a destination to road trip too.
On the Up and Up
Dates are a time to let loose, get to know someone, and have fun. If your date appears to be down, why not try to lift their spirits, literally. Climbing trees seems like a ridiculous idea until you actually try it. Being adventurous on a date makes them that much more memorable, and fun!
Be careful to not climb outside of your comfort zone, as a fall could ruin the day. In addition, do not pressure your date too much, as climbing trees is not for everyone.
Volunteer
Working together to accomplish a goal almost always results in a good date. When you add in the element of helping others, the whole day can be a "win-win!" Look up food banks in your area to pack food, or check to see if the humane society has adoption events which you could help with. The opportunities to volunteer are vast. Sometimes volunteering is as simple as picking up trash in a local park.
Get Photogenic
Grab your cameras (and yes, your phone counts) and go on a search to get the most artistic photo. A little competitiveness is fun, but make sure to keep it lighthearted and about spending quality time together.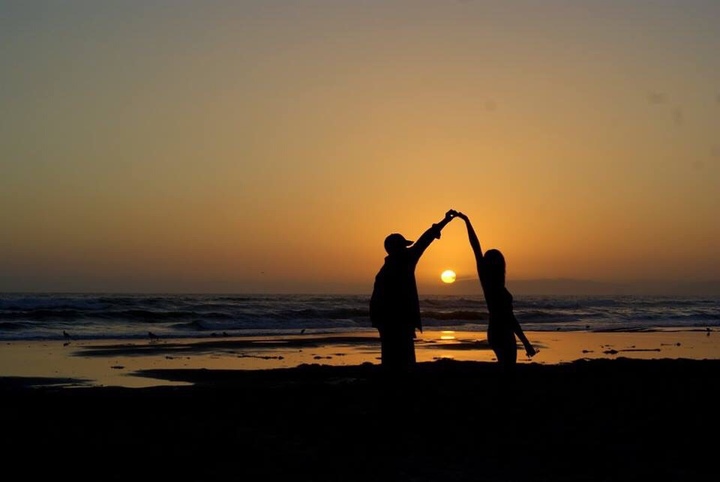 Find a Water Source
Something about being close to water inspires a scene of romance and relaxation. See if there is a trail around a lake, or walk along a city canal for an easy way to extend a date. The only cautions to consider are the weather and season. The sun's rays reflect off of the water and can cause your date to have blushing glow, in a bad way. In addition, bugs especially mosquitoes, love a good water source. Bring along some sun protection and bug spray, just in case. Also, food and/or drinks are a good idea.
Adventurous Airbnb
We love using Airbnb when we travel, and we usually meet some amazing people in the process. One thing we like to do for a weekend getaway is to find a really interesting Airbnb. These are usually not too far from home either. By renting a place from a local, we also have the chance to meet someone that lives fairly close to us.
Our favorite Airbnb experience was in a tree house owned by our friend Josh. When else are you going to get the chance to sleep in a tree real house!?
Creative Transportation
Don't forget that the trip to and from your date location is all part of the experience too! I was fortunate enough to date a guy with a convertible, motorcycle, and a love for bicycling, so there was usually some excitement in arriving to our destination.
*I am not saying his vehicles where the reason I went on to marry this guy (Brooks). However, his thought in planning fun dates, and getting us there in an exciting manner definitely made him one of a kind.
Planning a date that includes a fun mode of transportation such as a bike, paddle boat, canoe, shopping cart, or horse will add to an unforgettable night.
Light a Spark
You do not have to commit to camping to have a great BBQ or consume your favorite campfire foods. If you do not have a BBQ already, many parks have them for public use. No one says you can't have S'mores whenever you wish!
Skate to a Great Date
Roller skating, skate boarding, and even a scooter can be fun ways to get from one place to another, but they also can be a date activity in and of themselves.
Make a Scavenger Hunt
Brooks and I love setting up scavenger hunts for each other. From small around the house, to large-scale around the city searches, these are a unique way to inject fun, surprise, and excitement into your dating life. This one takes some prior planning, but in the end, it is worth it to drive your date around the city looking for the next clue. Just don't expect any clues left at a local park to be there when you return with your date, and have a digital copy of each clue. (We're talking from experience here!).
Hammock Happy
Who doesn't like some hammock time? You can set up a hammock as a resting place or bring it along for seating on the date.
Yard Games
There are a whole slew of yard games to pick from, but you can get creative and make your own. Think of a game that would be personalized to your date. Then have a couple back up games in mind if that's not their cup of tea. If all else fails, convincing someone to throw a frisbee around for a couple minutes can stir up some childhood joy, or laughs at how hard it is to throw one of those things.

One of our favorite games is Frisbee Golf. All you need is a few discs, and you are ready to play! While we are blessed to have quite a few courses in Phoenix, you can play in any park, just choose a tree to be the "hole" and take turns tossing until you hit it. Fore!
Enjoy the Moment
Whichever affordable and adventurous date you choose, remember to have fun and don't take yourself too seriously. Life's too short to not live to the fullest!
Want An Adventurous Date But Don't Know Where to Start?: Join Let's.Live
Lets.Live sparks discovery, inspiration, meaningful relationships, collaboration and physical activities that take place in the real world between like-minded individuals. Lets.Live is a full blown social network. It is as robust as Facebook or LinkedIn, minus the toxicity of and the formal business nature. Lets.Live pipes in millions of events, attractions, things to do, places to go and see that are relevant to the members' interests, location of interest, desired experiences, and availability when applicable.
Join let's.live and plan one of these adventurous and affordable dates for yourself!
What is your favorite type of date? Share below in the comments! We would love to hear from you!